We've reviewed all of our apps, and made a couple of changes:
 sign into ReservationKey from each app page
new simple app for online bookings through Facebook
Previously, you had to be signed into ReservationKey in a different tab in the same browser in which you were editing your Facebook apps. This caused some confusion and didn't always seem to work properly, so now we've made it so when you first open the app page you enter your ReservationKey login information there.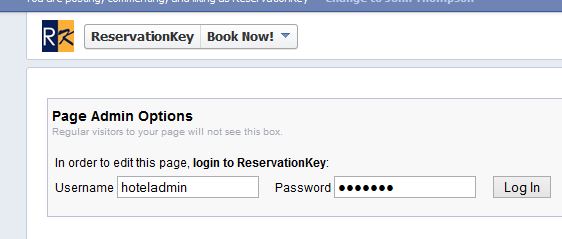 The new simple app for online reservations is easy to set up. It only requires that you enter the URL to your reservation page and set the frame height. Your guests will NOT need to accept the app prior to making a reservation. This makes it simpler for guests, but does have the drawback that you don't get information about their Facebook profile, and when they make a booking an announcement will not be made automatically on their Facebook feed (free advertising for you).

Don't forget to consider using our other apps, especially the Info Page, which pulls your property photos, descriptions, map, automatically from ReservationKey and makes a nice summary page for Facebook. No duplicating the data entry since all the information is pulled from what you already entered into ReservationKey.
Click here to get started adding our Facebook Apps