Just finished are two new improvements. One, is the ability to set Items For Sale as a per night charge, automatically based upon the number of nights selected. And the other improvement is that in the case of an error message to the user about a minimum stay not being met, the reservation form will not appear until the error is corrected.
Per Night Charge for Items for Sale
In the Items For Sale section, under the Website Tab, set the Price as "Per Night." 


Now, when the guest select this item, the quantity will automatically be set to match the number of nights reserved (and the quantity dropdown will not show). This is useful for anything you sell where the quantity must match the number of nights (such as a pet fee, cleaning fee, parking charge, extra heating, etc.).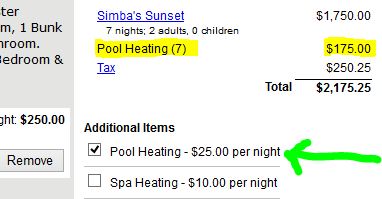 Reservation Page Error Messages
In the case a minimum stay is not met, previously we would show the error message at the top of the reservation form. It turns out that sometimes guests did not notice the error message and completed the form anyhow. Now, to hopefully further simplify the process for guests, we will not show any of the reservation form if the minimum nights required are not met (or the correct day of the week start day; or Friday/Saturday required). Instead we simply display the error message at the top of the contact form column. Once the guest changes their search or selects additional nights in order to meet the requirements, the contact form will appear.