Of the five reservation page types we offer (multiple units, calendar search mode, single unit, single unit search, hotel), with two of these types (calendar search mode and single unit), guests click dates on a calendar which means that it is possible for them to reserve non-consecutive night stays. This was actually created on purpose, to give guests the option to reserve non-consecutive night stays. However, some users have requested that reservations always be for consecutive nights. Therefore we have added an option in the Reservation Page settings for whether or not to require consecutive night stays.
The option is about half way down the Reservation Page settings: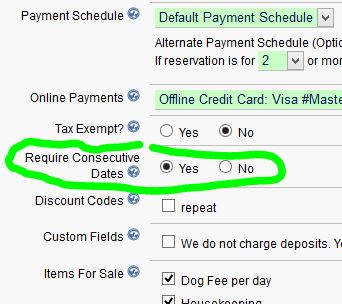 Once this is set to Yes, if guests select non-consecutive nights on one of the clickable calendars, they will see an error message. By default, this setting is set to No, don't require consecutive stays.