A user emailed today wondering about how we handle data backups. This is probably something everyone thinks about, especially with a web-based system, where you are not directly responsible for backing up your own data.
What we do, is automatically back up our complete database once per day and then we automatically move the backup to an offsite server. This means that if there were a disaster is our data warehouse in Arizona, the data stored outside of there would be safe. We always have about two months of backups available at any time. This is also convenient since it enables us to pull out data for users in case they accidentally deleted something, or have a question about the state of something a month or so in the past.
Users can also make their own backups of most of the data, which is a good idea in case their internet connection goes down or they just want to feel comfortable knowing they can access all their reservation data offline.  One way is to regularly export data to CSV files using the Export Results checkbox in the Reservations Tab. 

Once you've selected this, you then can select which columns to include in your report.

Then click Create Export file and download the CSV file to your computer.
We also have a convenient way of printing each reservation. Many users do this for every reservation so that they have a hardcopy backup of all the reservation information. In the Reservation Summary, at the bottom, click the More menu button and select Print Reservation. This prints all the information out on one nicely formatted page.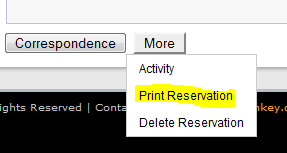 Many of our reports also offer export options, so those could also be used as ways to backup the data.