Users often ask what they can do to more fully utilize the various features of ReservationKey.  While this list is nowhere near exhaustive, here are a few things you can do that quickly come to mind:
Fully Integrate Payments
One of the best things you can do to save you time is to process all your payments through ReservationKey.  Reservations are automatically updated to show payments that are processed in the system.  This can be either through one of our integrated credit card processing companies or PayPal.


With PayPal users click over to PayPal to make their payment. Once the payment is made, ReservationKey automatically updates to show the payment. With one of our fully integrated credit card processing methods, payment is charged to the guest's card as soon as the Make Reservation button is clicked. Internally, you can charge the guest's card with a click of a button.


No need for the guest to give you their card when they check out since it is already in the system.  Just enter the amount to charge, and you are done.  Since we use a token system to transmit credit card numbers, PCI compliance is not an issue since credit card numbers are not stored on our servers.

With the payment schedules, you can set how much to require at time of the reservation and how much to require X number of days before the first day of the reservation (if anything).  Emails can go out automatically thanking guests for their payment and reminding them an upcoming payment is due.
Use Auto Emails

You can build email templates which can insert lots of system information automatically into the email. This way your guest receives custom tailored emails but you did not have to spend the time to manually create each message.


Besides auto emails after a payment and for payment reminders, use automatic emails to thank guests for their reservation, to remind your guest about their upcoming reservation (good place to include last minute information), and to followup X number of days after their stay. All of these are great ways to improve your contact with your guests while not costing you any extra time.
You can add as many emails as you need for each triggering event. So you could have separate emails go out to your guests, such as one about travel insurance, one with directions to your place, and one about local attractions. With the thank you for your stay email, you could also have a separate email automatically go out to your house cleaner. Or just set your housekeeper as the BCC recipient.


Make Document Templates

The email template section can also be used to make templates for emailing manually, or for printing.  Users have created registration forms, invoices, and more.  Also you might want to make lots of additional email templates which you can manually send as relevant to your guests.  For example, a special email for honeymooners or an email for business travelers.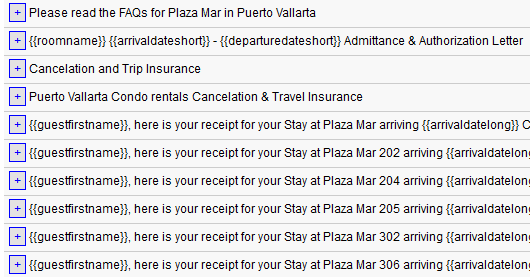 Link to Reports

Many of the reports include links which you can embed in your website for pulling additional information out of the system.


One good example is the Availability Calendar – Select Rooms #3. This is a nice looking calendar that can give users a quick overview of your availability without them having to go to your online reservations page. Another way to use the external links is to give the link to the housekeeping report to your housekeeper. This way the cleaner can see which rooms are dirty without having to log into the system. Or if you are a property manager, give your owners the direct links for Income and Expense just for their property(s).

Upsell

Why not sell additional items on your reservation pages? This is a great place to sell items such as mugs, hats, or cookbooks. Or, get fancier with it, and add a package. Packages can be set to only show in certain date ranges, and can be limited by the number of days selected (such as You must select at least 3 nights to reserve this package). Packages also can be an add on price (such as an extra $100 for the Romance Package), or room prices can change completely when a packages is selected.


Track Expenses
Use the expenses section in the Reservation Summary to keep track of expenses related to a reservation. This is a great place to track commissions owed for reservation referrals. You can even set up your own categories of expenses and save vendor names for quick use in the future. And this allows you to create Expense reports which show you how much you paid each vendor (such as how much you paid Judy in June), or how much you spent in each category (such as how much was paid in commissions in July).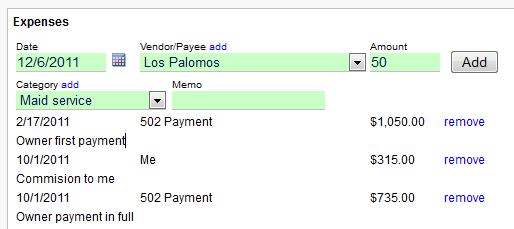 Use The Guestbook

Comments from past guests can be instrumental in helping prospective guests decide to stay with you.  Unlike other automatic guestbooks, we believe you ought to have the ability to filter comments, so nothing goes into your guestbook until you have first approved it.


Guest comments can be automatically shown as a link next to each room (so new guests can see comments specific to the room they are interested in staying in) or you can just include one link to the guestbook next to your property information, or both.


Sell Gift Certificates

Selling gift certificates costs you nothing up front and increases your cash flow. And when you let ReservationKey manage your gift certificates there is almost no work on your end to sell them. Once a guest pays for a gift certificate (after selecting the amount they want to buy) an email is sent to them (or their recipient) with a printable certificate containing a unique code.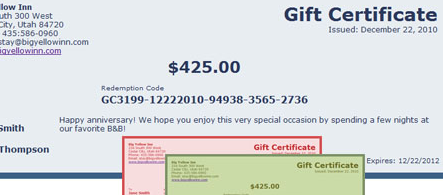 When the recipient wants to use the certificate they just enter the certificate code in the box on the reservation form and the reservation price is automatically reduced up to the value of the certificate. For example, if the total price for a reservation is $500 and the guest has a $200 gift certificate, after entering the code, $300 is shown as the remaining balance owed.
If you have more ideas on how to best use ReservationKey, feel free to leave a comment below.