You might think, wouldn't it be nice if I could charge a different deposit amount depending on how many nights the person has selected? Well, now you can, using the Alternate Payment Schedule setting in the Reservation Page settings.
For example, for reservations for only one night you might want to charge 100% of the total price, including tax, but for longer stays, you want to charge a deposit of just one night's stay, without tax. Or you could do something like charge 100% for stays of five nights or less, but for reservations of six nights or more, charge a 50% deposit due at time of reservation and 50% due 30 days prior to arrival.
To set this up, set up two payment schedules.  One schedule for your short stays, and one schedule for your longer stays.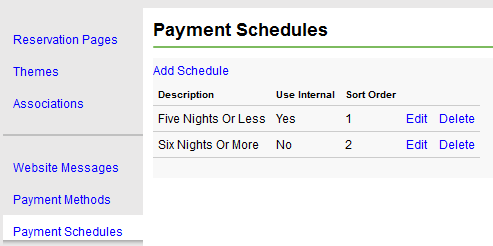 Then, go to your ReservationPage settings, and select the two methods you set up.

Now, the payment schedule will automatically apply depending on how many nights reserved. If you are using PayPal for guests to make a second payment prior to their stay, the system will also determine which payment schedule to use. For reservations made manually, internally, the system will determine which payment schedule to use when the guest loads the payment page.
If you don't need this functionality, just leave the Alternate Payment Schedule section set to nothing, which is, "– Select–".