We are pleased to announce that ReservationKey has been certified by TripAdvisor as a Plus Partner. Here is the message we recently received from TripAdvisor:
"Great news, everything runs fine and you are now certified and your customers will be able to use the TripConnect within 48 hours."
This means that any of our clients that also have listings on TripAdvisor will have the option to have guests click directly to their booking page on ReservationKey, potential avoiding having to pay commissions that might result if the guest clicks through to one of the big Online Travel Agents (OTA) that the property is also listed on.
While working with TripAdvisor in the certification process there were a few things we had to change from how we originally envisioned this connection would work. Instead of being able to send guests to the hotel's website, we have to send them directly to a ReservationKey booking page, with the dates they guest searched in TripAdvisor pre-filled when they open the ReservationKey booking page. This actually creates some interesting options, since ReservationKey users could set up a booking page specifically tailored to TripAdvisor visitors. Or you can just direct TripAdvisor traffic to your primary Reservation Page in ReservationKey.
Also, since we have to show availability to TripAdvisor which matches that on the Reservation Page that TripAdvisor traffic will be sent to, it isn't necessary for users to select which units to make available to TripAdvisor. The inventory being set to TripAdvisor will be those units which are selected to show on the Reservation Page that is being used with our TripConnect link.
For our users that want to use this TripAdvisor connection, we recommend that you go to the Settings Tab, External Connections and add TripAdvisor. If you already did this, please double check your settings there, and make sure your correct ReservationKey ReservationPage is selected.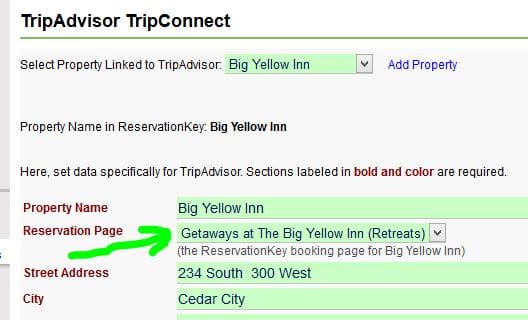 Note: If you want to add multiple properties to TripConnect in ReservationKey, this is no problem, but each property must have its own Booking Page. TripAdvisor does not allow multiple properties to all point to the same booking page.
We look forward to feedback from users about how well this works, how many reservations they are receiving, etc. If there seems to be strong demand for this, in the future we may also work on integrating with TripAdvisor's Review Express API.