We offer a feature where you can set up completely different rate plans which are triggered by discount codes.  This means you can set up a code which will pull rates from a different plan than your normal rates.  An example of where this is useful is if you are using ReservationKey to manage a condo building where condo owners get heavily discounted rates compared to rates offered to the general public.  You can have your public rates list at something like $200 a night, and the owner's rates list at $50 a night.
The basic steps to get this set up are:
1.Create a new rate plan with your alternate rates.
You don't need to create just one rate plan for all your rooms.  You can create different alternate plans which get linked to different rooms.  Go to Properties Tab, Rate Plans.  Add a plan, and then add a rule to it.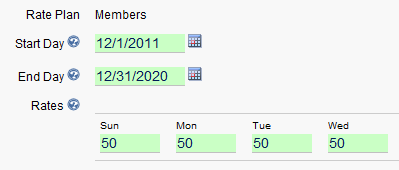 2. Edit your rooms and link this alternate rate plan to your rooms.
If you created multiple alternate rate plans, make sure you link the appropriate ones to each of your rooms.
Under Rooms/Units tab, at bottom of page, click Select All, Edit.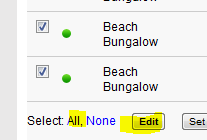 And then link the new alternate rate plan(s) to your rooms.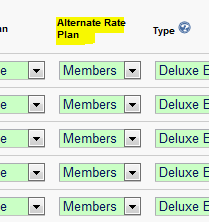 3.  Set up your discount code which will trigger your alternate rate plan.
Under Website Tab, Discount Codes, Add Discount Code.  You only need to enter two things here.  First, the actual code that guests will type in, and second, set Trigger Alternate Rate Plan to Yes.


4. Link the discount code to your Reservation Page.
Under Reservation Page settings click edit, scroll down and check the box next to your new discount code.

And that's all there is to setting up an alternate rate plan.  These steps are also explained in a tutorial video which can be viewed here:
http://www.reservationkey.com/help-v2/videos/youtubeviewer.asp?v=s_FiqT6ciI8