A development in the last few years has been the need to link with online travel agents (OTA's) such as booking.com, Expedia, etc. We have now created a link with the channel management company myallocator.com which allows two way communication between ReservationKey and thirty different channels (OTAs). This means that instead of having to manually log into each of your channels, you can set up this link have have your reservation data automatically load into the channels you have connected. Our link is two way, so ReservationKey will update when you receive a reservation from an OTA, and the OTA will update when you enter or modify a reservation in ReservationKey.
As our first partner in this endeavor, we have selected myallocator.com. We like their simple interface, and low price, both of which fit well with our philosophy.
To get started with this, first go to myallocator.com and create an account there. Inside myallocator.com, add your property and rooms that you want to link. Set up channel managers as you like.
Then, return to ReservationKey and go to the Settings Tab, Channel Managers. There you can add myallocator.com and link your properties. To transfer your reservations initially, use the update button. That will send all your upcoming reservations to myallocator. Once you have linked your units to myallocator.com, further changes in reservations will happen automatically, and usually within seconds after changing a reservation in ReservationKey your change will show on myallocator.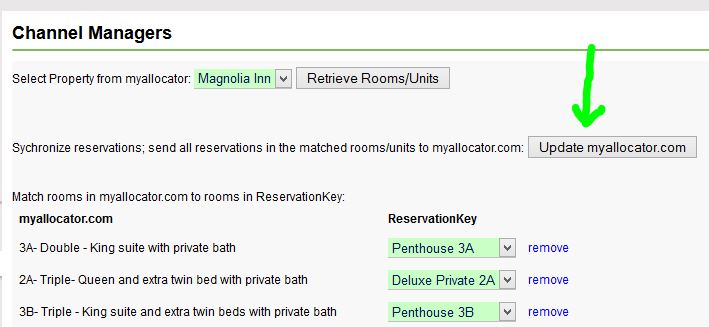 Here are some of the channels supported by myallocator.com:
Orbitz (Asia-Hotels.com, Ebookers.com, Hotelclub.com, Lodging.com)
InstantWorldBooking.com (hosteltraveler.com)
Booking.com
Expedia (hotels.com)
Airbnb.com
BBPlanet.com
MaxBooking.com
Agoda.com
Hotel.de
Hostelbookers.com (including affiliates such as Hostelmania.com)
Hostelsclub.com
Hostelworld.com
Hosteltimes.com
EasyToBook.com
Budgetplaces.com
Hoteladvisor.com
Gomio.com
Escapio.com
BookingMarkets (LetMeGo.com and others)
HIHostels.com
RatesToGo.com
InItalia.it
YourSpainHostel.com
Easy-bookings.co.uk
GDS system