In response to requests from users, we have added an option to set whether your cancellation policy should display the full text on the reservation page, instead of being displayed in a popup box. It seems that the credit card companies have become more strict about where the cancellation policy needs to be displayed. Unless it is showing right on the page, immediately above the Make Reservation button, there is a greater chance of the credit card company siding with the buyer in the case of a challenge regarding a charge due to a cancellation.
To set this, first check the box in the Website Tab, Reservation Page settings:

Once this is checked, the full text of the cancellation policy will display on the reservation page.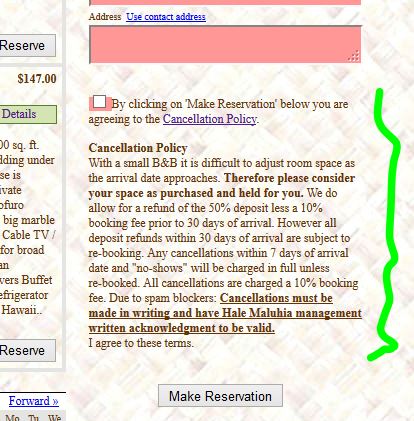 If you opt to display the full text on the page, then we also will be showing the checkbox for your user to check to indicate their agreement. We hope this helps with fighting back against people that claim not to know about your cancellation policy.