If you are using our channel manager connection, myallocator.com, it is now possible to track commissions owed on reservations that come into ReservationKey through the channel manager. We've created a place in the channel manager setting to save how much commission is paid on each reservation you receive through third parties (OTAs). Once this is set, we automatically calculate and store in the expenses section of each reservation the commission amount. This makes it possible to run our existing expense reports and see totals by the vendor, by date, etc. Since each OTA is listed as a separate vendor, this is also a great way to track how many reservations are coming in from each of the channels you market on.
Step by step instructions:
1. Settings Tab, External Connections, Edit
2.. Enter the amount you pay as commission on each reservation. Click Save.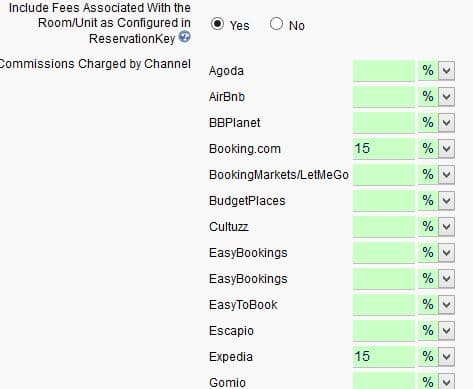 3. Now you will see a commission entry in the expense section:

4. And also in the Vendor reports. For example:

If you haven't yet started working with Online Travel Agents (OTAs such as booking.com), you may want to consider it. We've only been hearing good tings about it. Recently one of our users emailed me this information about how it has helped his business. 
"I am setting up the Bard's Inn on booking.com now. Airb&b finally is now syncing with myallocator so I do not need to do it manually. I have taken $1800 in AirB&B reservations since I set it up at the start of the year. That is not huge but still was a pleasant surprise because as i get more good reviews, I get more reservations.
The first 6 months of 2013 I had 355 room nights.
The first 6 months of 2014 I had 497 room nights which is 147 nights more directly linked to myallocator. That is a 41% increase."
So, if you haven't yet signed up with myallocator, we strongly encourage to you consider it. Set up the connection in ReservationKey under Settings, External Connections. ..