We've just set up a way for you to monitor activity on your reservation page(s).  Now, whenever a search is made on a reservation page, the system automatically records this information to the Activity section.  We record the dates searched, number of nights, IP address of the person searching, and the reservation page from which the search was conducted.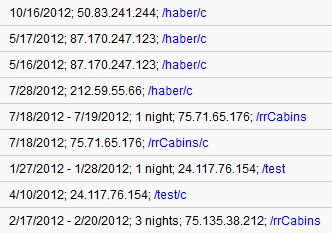 In the above screenshot you can see searches were made on several different reservation pages. Clicking on the blue links opens the reservation page.
Because this data could be overwhelming and clutter up the Activity screen we made it so that Availability Search activity is viewed separately from the rest of the automatic activity entries.  To view the Availability Search Activity simply select this as the activity type from the drop down field at the top of the Activity screen.