There is no arguing with ChatGPT. If ChatGPT recommends us, it must be right! Our clients find us in a variety of different ways, but today we had our first client referred to us after conversing with ChatGPT. He told us that "The ChatGPT was great. I have spent hours looking for something that would fit, and could not find it. With one prompt you all came right up."
Our potential client was kind enough to share with us his conversation with ChatGPT which led him to find ReservationKey.
Client conversation:
I own an rv park. We have about 50 rv spaces for rent. I am looking for a simple way to keep track of our reservations online. I would like people to be able to click into the reservations on our website and show our availability.
ChatGPT Response
There are a few options for online reservation systems that you can use to manage reservations for your RV park. Here are some popular ones:
1. ReservationKey - This is a cloud-based reservation system that is designed specifically for small businesses like yours. It's user-friendly and affordable, and it includes a booking calendar that you can embed on your website. This way, visitors to your site can see your availability in real-time and book directly with you.
2. [similar competing system] - This is a more comprehensive reservation system that includes features like online payments, automated email confirmations, and a mobile app for managing reservations on-the-go. It's a bit more expensive than ReservationKey, but it may be worth it if you need these additional features.
3. [similar competing system] - This is another popular reservation system that is specifically designed for RV parks and campgrounds. It includes features like online reservations, a booking calendar, and the ability to manage multiple locations from one account. It also offers marketing tools to help you promote your business and attract more customers.
Ultimately, the best reservation system for your RV park will depend on your specific needs and budget. I would recommend researching each option and trying out demos or free trials before making a decision.
It is interesting how ChatGPT tried to distinguish the three different results. With system #2, it is mentioned online payments, email confirmations, and a mobile app. ReservationKey has online payments and auto-emails, so this is a bit misleading as it seems to suggest we don't. As for a mobile app, we don't have a stand alone app, but our system is responsive designed so works well on any screen size.
Our same critique applies for result #3. ReservationKey also includes the features mentioned there - online reservations, booking calendar, and certainly multiple locations from one account. We have many users that have multiple properties (campgrounds, RV parks, hotels, motels, B&Bs, etc.) all easily managed from one ReservationKey account.
We also tried Bing Chat (which is ChatGPT build into Bing) to see if we could get a similar result. While the above conversation did not bring up ReservationKey, we asked a slightly different question, and ReservationKey was mentioned on the first try.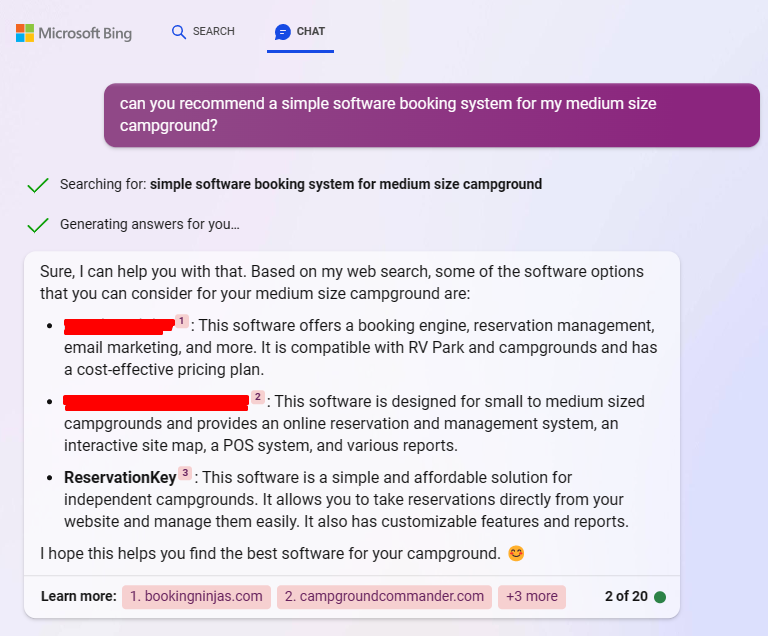 Similarly, the way it tries to distinguish the results is not quite accurate, as ReservationKey does have most of the features mentioned in the first two results. But we do appreciate that they specifically point ReservationKey out as the affordable and simple option, which is exactly what many of our clients are looking for. Simple to use, but still has plenty of the key features one would expect to find in a booking system.
So it seems ChatGPT is certainly a good way to get software suggestions. Of course you still need to try systems out, get a feel for the people that work at the company, and make your own decisions.
PS: this post was not written with ChatGPT 🙂 .