We've added two new features to the Correspondence window.
It is now possible to add attachments prior to sending an email. Just click the Add link. 

Additionally, PDF files can now be created from the contents of the email template, and attached to a message, all with just a few clicks. This is great for being able to dynamically generate PDF documents, where information is pulled into the PDF based on data saved in ReservationKey. An example of how this can be used is for creating rental agreements sent to guests renting vacation rental properties.
Note the new "Send As PDF…" button.

Clicking this button displays an additional field where the text to include in the body of the email can be entered. The PDF attachment is created based on text and formatting contained in the original email editor field.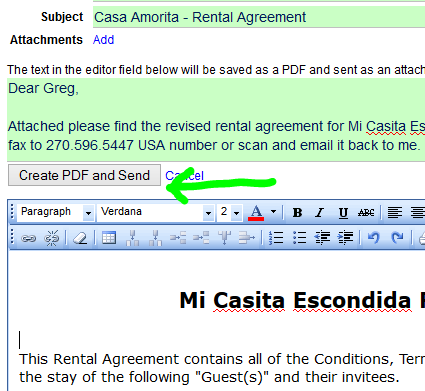 Click "Create PDF and Send" to send the email. The PDF is created and the email is sent. That's all there is to it!