From the Reservation Details page, the Change link now opens a small window where quick adjustments to a reservation can be made.

This window contains several useful features.
1. Move Rooms
Simply select the new room to move this guest to. After selecting the room, the system will automatically check to see if the newly selected room is available. If not, as seen in the Lodge Room to Beatrice move in the above example, the system will show a warning, but give options for overriding the warning. The options are to Swap or Overwrite. Swapping the rooms will put the existing reservation in the old room, and the current reservation in the newly selected room. Overwriting will replace the existing reservation with the current reservation.
2. Change the Arrival Date and Number of Nights
Select a new arrival date by clicking in the Arrive box. Add or remove reserved nights by adjusting the number of nights drop down. Note, it is not possible to adjust the number of nights for non-consecutive stays. The entire non-consecutive stay block will be moved to the new arrival date. To change the number of nights, click the Use Calendar link.
3. Remove Room(s)
When a reservation contains more than one room, checkboxes appear to the left side of the window. Check the rooms to be removed, and then click the Remove button.
4. Break Out Room(s)
For multiple room reservations, it is possible to select which room(s) should be taken out of the existing reservation and used to create a new reservation. This is very useful for making new reservations out of a block of rooms being held for a group, such as for a wedding. Simply select the room(s) which will form the new reservation, and click the button Break Into New Reservation.

It is also possible to change rooms from the Availability calendar. Hover over a reservation and click the link Change/Move to bring up the Change window.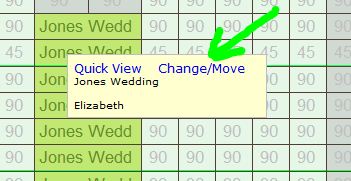 When rooms are changed with this feature, any prior changes to room prices will be retained. If new dates are being added, the system will pull rates from the associated Rate Plan. Additionally, emails in queue will automatically update to reflect any new arrival dates.
For a look at how this feature works, click here to watch our video tutorial of the Move/Change link.