What is the purpose of an online reservations page on Facebook?
By adding the ability to take reservations through Facebook you are adding another source for new reservations. Additionally, there are exciting things that can be done when tapping into the power of social networking. One benefit is that when your guests make reservations through your Facebook page, their feed will show an entry about how they just booked a reservation at your property. Additionally, your notification email will contain a link to your guest's Facebook profile. Go to ReservationKey Facebook apps.
What exactly is posted to my guest's feed when they make a reservation?
When you configure your Reservation Page for Facebook, you have the option to enter your business title, location, website, description, and photo. Information added to these fields will be posted to your guest's news feed. Such as this: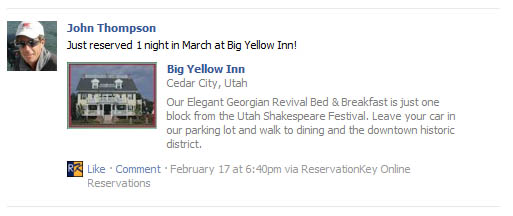 How do I add this app to my Facebook page?
You can add the app by clicking here. If you don't yet have a Facebook page, click here to create a page. Select your business page as the page to add the app to.

Now the app will appear as a tab on the left side of your Facebook page. Just click on the tab to open it. When logged into ReservationKey in the same browser you will see the admin options for the app at the top of the page.
Which page should I use for my Facebook Reservation Page?
We recommend you create a new reservation page for use specifically on Facebook. You can easily duplicate an existing reservation when you add a new page, under Website Tab, Reservation Pages.

Give this page a unique alias and name, and select the Facebook theme.

Now go back to your Facebook page and select this new Reservation Page.

Should I use the ReservationKey Facebook theme or create my own?
We recommend using the Facebook theme since that matches the look and feel of Facebook. You can use that theme as a starting point if you would like to customize the colors. Keep in mind that your theme should be no wider than 500 pixels since that is the width of the center section of Facebook pages.
What types of reservation pages are supported?
This app works best with the Multiple Units type page on Availability search and also Single Unit pages. The Calendar Search mode on the Multiple Units page does not work well since the calendar is too wide for the narrow format of Facebook.
How do I change the default name of this tab?
When viewing your page wall, click the Edit Page button in the upper right corner.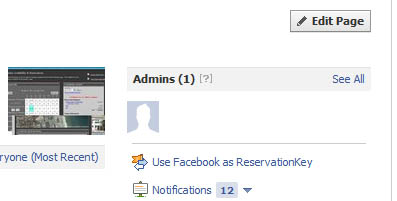 Then click Apps on the left side.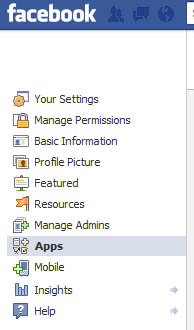 Then find the tab you want to edit the name of and click Edit Settings and enter a new name, or leave blank to use the default name.